The Principles and Staff of The Title Company have always been heavily involved in community activities and civic affairs. Commitment for our personnel means more than simply making a donation or contributing funds to a project. It means involvement.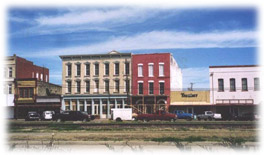 Service and giving something back to the community is part of the everyday life of every employee. Active participation is found at many levels in local churches, schools, community projects and activities, and in civic affairs.
Specifically, two of the company principles have served the community as Mayor of Navasota and all three of the principles have been on the Navasota City Council.
One of the principles of this organization has been active for over two decades in the Grimes County Chamber of Commerce, serving on the board of directors and several committees. She has also served for many years on the Board of Grimes St. Joseph Hospital in Navasota.
Two of the principles, Bonnie Fultz Armstrong and Artie M. Fultz have been recognized and honored as Grimes County Citizen of the Year. Bonnie Fultz Armstrong has been recognized repeatedly by many other Grimes County organizations for her service to the community. She is an active member of the Navasota Economic Development Corporation and the Navasota Industrial Foundation.